Varsity Receives State-of-Art Equipment From Germany
Image
Maseno University has received electronic equipment from the Government of German through the Migration and Diaspora Programme, hereafter CIM-PMD/GIZ.
Through several applications by Dr. Jethron Ayumbah who studied in German at the Technische Universitat Darmastadt (Technical University of Darmstadt), Maseno University has benefited from donations from CIM-PMD/GIZ which were received by Maseno University's Vice-chancellor, Prof. Julius Nyabundi.
The equipment which comprised of documentary camera, smart TV, laptop, 3 in one printer, computer monitor, projector screen, and a mini projector, were donated to Maseno University courtesy of Dr. Jethrone Ayumba from the department of History and Archeology, Maseno University.
Speaking at the event, Maseno University Vice-Chancellor, Prof. Nyabundi noted," I hope the returnee, Dr. Ayumba will not only introduce the skills gained from Germany to students but also teach his colleagues on how to use these equipment to improve learning experience."
Prof. Nyabundi was confident that by interacting with state-of-the-art equipments, students will be equipped with relevant knowledge making them marketable in the industry.
Image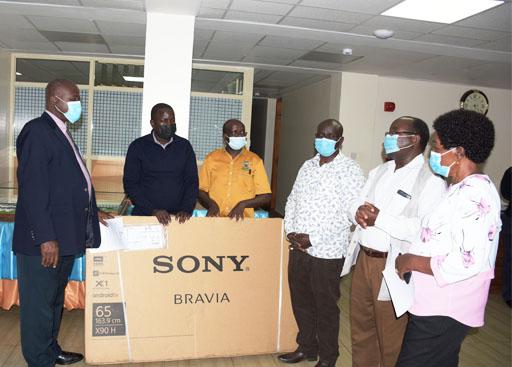 The dean, School of Arts, Prof. David Ongarora who was also present at the event thanked the German government for their continued support and the donation of the equipment.

"The equipment we are receiving today will not only serve the University through well-equipped laboratories but also serve the society at large" he said. He further commended Dr. Jethron for successfully completing his studies and being a conduit through which the University has received quality equipment that would have otherwise been very costly
Image